As a Class "A" Roof Covering System
FTX treated wood shingles labeled "Class B" may be installed over a ¼ inch (6mm) thick Dens-Deck Roof Board, manufactured by Georgia-Pacific Corporation.  The Dens-Deck Board is fastened either to a 1 inch (25mm) by 4 inch (102mm) spaced cheating or ½ inch (13mm) plywood with exterior glue which shall be installed in accordance with the applicable code.  Dens-Deck Board requires a minimum of four fasteners per board to avoid panel shifting.  Dens-Deck Roof Board may be substituted with a minimum seventy-two pound mineral surface fiberglass cap sheet fastened to either a 1 inch (25mm) by 4 inch (102mm) spaced sheathing or ½ inch (13mm) plywood with exterior glue.  If installed on spaced sheathing, the horizontal joints of the Dens-Deck must meet on the solid nailing surface.  The mineral-surfaced cap sheet is installed mineral-surface side up with a 2'' (51mm) overlaps on sides and ends, and attached with sufficient number of fasteners to hold the sheet in place prior to installation of the shakes.  Dens-Deck Roof Board and mineral surfaced fiberglass cap sheet must bear the label of a quality control agency accredited by ICBO ES.  If installed on spaced sheathing, the horizontal overlap must meet on the solid nailing surface. (See Figure A).


Roof Pitch and Exposure
Proper weather exposure is important and depends largely on roof slope.  On roof slopes of 4" rise in 12" horizontal run (pitch 1/6) and steeper, the standard exposures are:  5'' for 16" shingles; 5 ½" for 18'' shingles; and 7 ½" for 24'' shingles.  On roof slopes less than 4/12 to a minimum of 3/12 , reduced exposures are recommended. 

Roof Application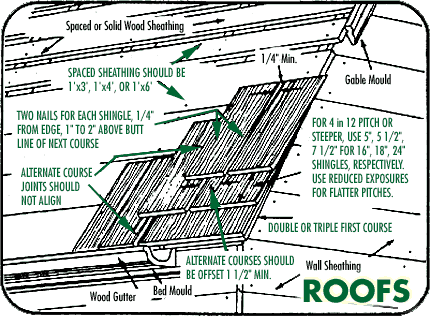 Shingles normally are applied in straight, single courses.  Shingles must be doubled at all eaves.  Butts of first-course shingles should project 1 ½" beyond the first sheathing board.  Spacing between adjacent shingles (joints) should be ¼", Joints in any one course should be separated not less than 1 ½" from joints in adjacent courses, and joints in alternate courses should not be in direct alignment. 

Fasteners
Hot dipped zinc coated nails or stainless steel staples are recommended.  However, any U.B.C. approved corrosion-resistant fasteners can be used.  Apply each shingle with two (only) fasteners.  Each fastener should be placed not more than ¾" from the side edge of the shingle and not more than 1" above the exposure line.  Use 3d (1 ¼") nails for 16" and 18" shingles, and 4d (1 ½") for 24" shingles, in all cases, fasteners should be long enough to penetrate at least 1" or through the sheathing.  Drive them flush, but not so that the head crushes the wood. 

Valleys, Hips and Ridges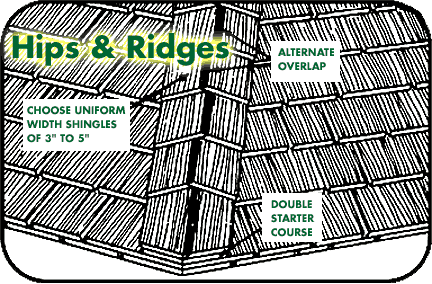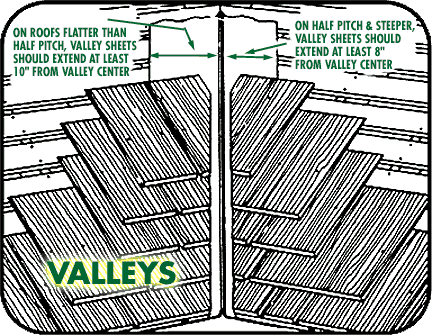 The roof valley flashing shall be provided of not less than No. 28 gauge pre-painted baked enamel metal applied over and underlayment of not less than Type 15 felt.  The metal shall extend at least 8 inches from the centerline each way.



Warning:
BOTH RAW AND FIRE RETARDANT TREATED CEDAR PRODUCTS CONTAIN ACIDIC LEVELS THAT THROUGH INITIAL WATER RUNOFF CAN CAUSE STAINING AND CORROSION TO UNPROTECTED SURFACES.  GUTTERS SHOULD BE USED AND IT IS STRONGLY RECOMMENDED THAT ALL GUTTER AND FLASHING MATERIAL BE FACTORY PRE-PAINTED BAKED ENAMEL.  A THOROUGH LOW PRESSURE WASH OF THE ROOF IMMEDIATELY AFTER APPLICATION/INSTALLATION IS RECOMMENDED.  CHEMCO IS NOT RESPONSIBLE FOR ANY DIRECT OR INDIRECT DAMAGE CAUSED BY WATER RUNOFF.